GSfBS Doctoral Representatives
On March 30, 2023, Iris Villani, Ayesha Sen and Theresa Fink were elected as GSfBS doctoral candidates representatives. Toluwanimi Afolayan, Anne Oepen, Ilayda Fahliogullari, Lea Trojahn, Ricardo Custodio, Tanvi Parashar, Faiza Aslam were elected as deputy representatives.
We are herewith members of committees concerning our interests and will together with representatives of other department-wide graduate schools vote for delegates.
GSfBS Steering Committee
Doctoral candidates council of the Faculty of Mathematics and Natural Sciences
Doctoral degree committee of the Faculty of Mathematics and Natural Sciences
AMC committees

You can contact us for ideas and suggestions regarding the GSfBS. We will collect your input and bring it to the attention of the GSfBS steering committee and/or office. Vice versa we will bring information or requests to your attention. Our common email contact is gsfbs-representatives
uni-koeln.de
Theresa Fink
Theresa obtained a Bachelor's degree in Ecology at the University of Göttingen and then moved to the University of Heidelberg to study Systems Biology. In her Master's thesis, she investigated the intracellular pH of Bacillus subtilis during spore formation. She came to the University of Cologne for a PhD in Biophysics supervised by Prof. Bollenbach. Her project is focused on the fitness effects and epistatic interactions of mutations during antibiotic resistance evolution in Escherichia coli.
Ayesha Sen
Ayesha grew up in Darjeeling, India and received her Bachelor's degree in Biotechnology from Amity University, Uttar Pradesh. She moved to Germany for her higher education, and did a Master's in Molecular Biology and Biotechnology from the University of Bonn. For her Master's thesis, she joined the group of Prof. Dr. Rudolf Wiesner at the University of Cologne, where she studied the link between mitochondrial dysfunction and inflammation in keratinocytes. Her current research interests are to investigate the maintenance of mtDNA integrity, specifically in muscle satellite cells, in the context of ageing and sarcopenia. She is studying this under the supervision of Dr. David Pla-Martín and Prof. Dr. Rudolf J. Wiesner, at the Centre for Physiology and Pathophysiology.

Iris Villani
Iris studied Biotechnology at the University of Modena in Italy and then Translational Neuroscience at the HHU in Düsseldorf. For her Master's thesis she looked for candidate peptides against IAPP, an amyloid protein involved in Type 2 Diabetes and Alzheimer's Disease. Now she works on her PhD in the group of Dr. Reznick in the CECAD, supervised by Prof. Frezza and Prof. Krüger, investigating the metabolic adaptations induced by hypoxia in the Heterocephalus glaber, a non-standard animal model of healthy ageing.
Anne Oepen
Toluwanimi Afolayan
Toluwanimi is from Nigeria. She obtained her B.Sc. in Biochemistry from Bowen University, Nigeria and her M.Sc. in Biochemistry from the University of Lagos, Nigeria, where she studied genetic polymorphisms of tumour necrosis factor-alpha gene (-308 G/A) in subjects with age-related cataract. She is currently a PhD student in Joris Deelen's research group at the MPI-Age, where she is investigating the in vivo functional characterisation of rare genetic variants identified in exceptionally long-lived individuals.
Lea Trojahn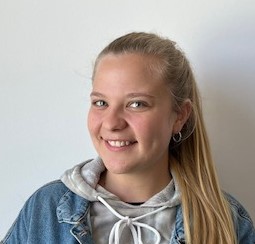 Lea grew up near Cologne and started her bachelors degree after her Abitur at the University of Cologne. She switched from Aquatic Ecology working with protists to Molecular Medicine in her masters. After getting more and more into the field of Biology and Genetics, her Master thesis has focused on regulation of spindle positioning of dividing cells and cell fate in the epidermis. She is pursuing a PhD in the Department of Cell Biology of the Skin in the AG Niessen in CECAD, focusing on insulin signaling in skin barrier function.